About Us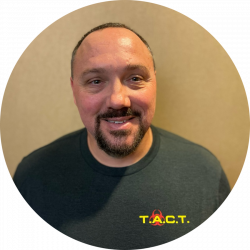 Wes Sagendorph is a 22 year Air Force veteran. He is a Houston resident. Wes and his wife have three children. Wes has a background in law enforcement and forensics. After a career in management with Amazon, Wes decided to start T.A.C.T. because he wanted to continue to be of service to his community and spend more time with family.
At T.A.C.T we use proprietary chemicals and the best training to be the most reliable biohazard and hoarding clean up company in the industry.
No matter how big or small the project is, T.A.C.T Houston is available 24/7 to help you in your time of need. We specialize in biohazard and hoarding clean up, however we are ready to help with many other types of jobs. If you are not sure to call, it's probably T.A.C.T Houston.
Just some of the services we provide are:
Biohazard Decontamination
Meth lab testing and clean up
Hoarding Clean Up
Mold remediation
Odor Removal
Tear Gas Remediation
Death Clean Up
Blood Spills
Homicide Clean Up
Suicide Clean Up
And many, many more
In many cases we can work with insurance companies to make this seem like a free service to our clients. It is one less worry and expense they have to think about during a tragic time. Our technicians go above and beyond to help families. We genuinely care and want to help.
All of our technicians and franchise owners are the most well trained in the industry. We are certified, licensed, insured and bonded.
When you call T.A.C.T Houston you can be assured you are working with a well trained, compassionate and trustworthy company.